ASSEMBLY AUTOMATION
One-Piece Flow Assembly Lines
We make One-Piece Flow Assembly Lines for mechatronics and electronics production.
Solutions

One-Piece Flow Systems – solutions for smooth flow of materials and products through the assembly process.
Assembly Stations – manual, semi-automated or fully automated workstations for each assembly step.
Test Stations – test systems for product quality or functional testing.

Industries

Automotive, Electronics, Telecom, Medical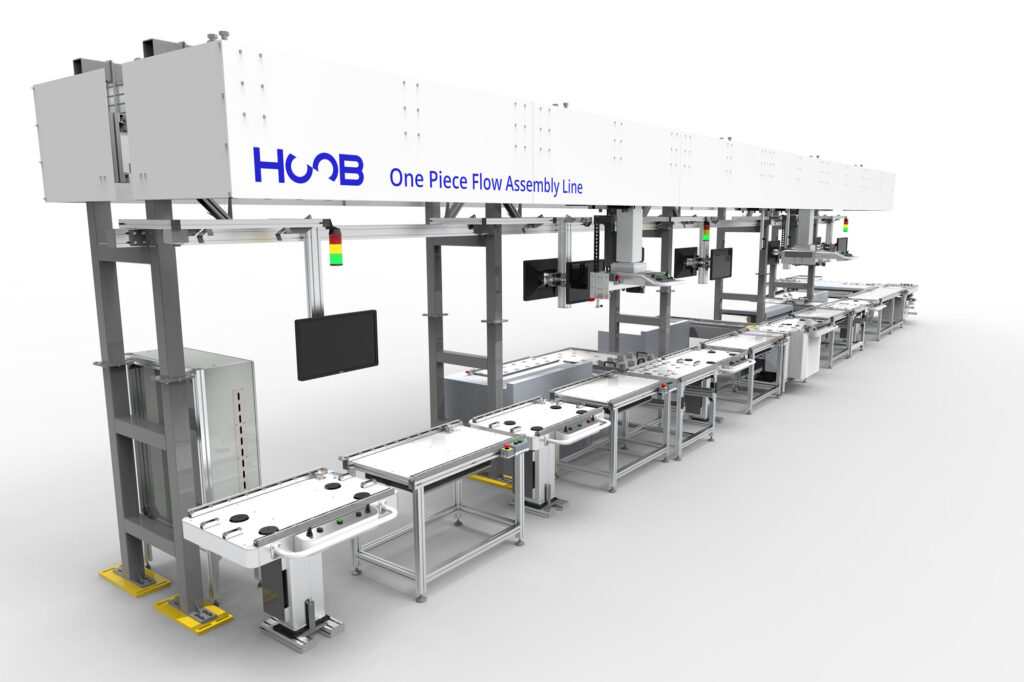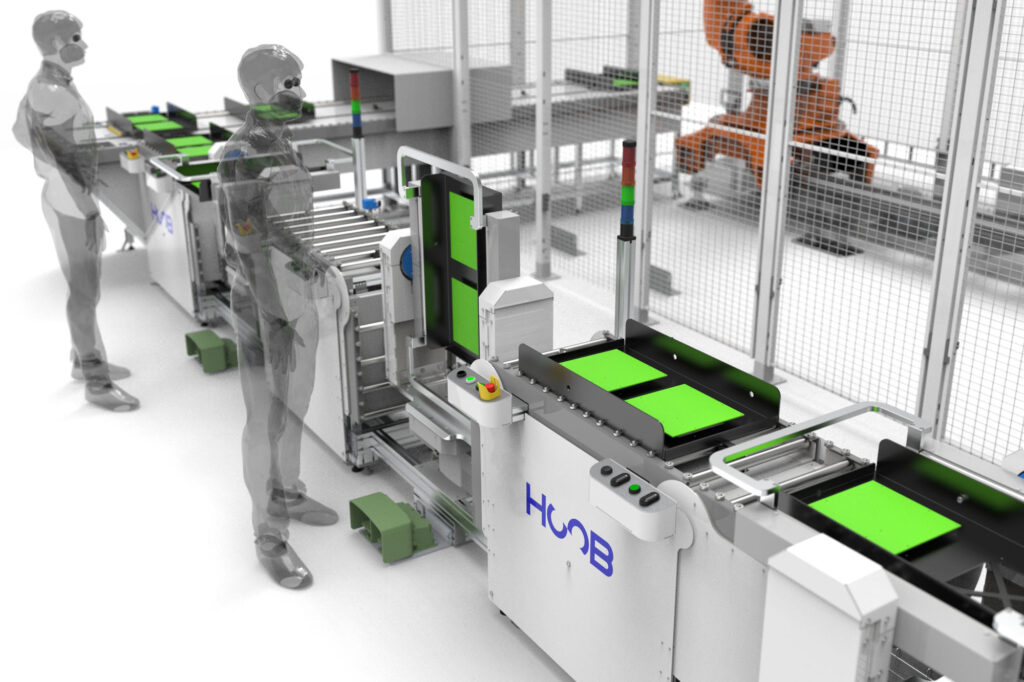 Main functions
Workpiece positioning – rotatating, turning, tilting solutions for moving the workpiece into a comfortable position for assembly.
Poka Yoke design – method used in our workstations to prevent operator errors by eliminating the possibility to make mistakes.
Control of work process – work sequence can be defined in the algorithm of control system to establish a stable process.
Integrated quality control – quality control checks can be implemented in the software of the workstation as final or middle steps in assembly process.
Production data sharing – information about work process, quality results and other product data can be shared to the factory database (for example by OPC UA).
Transport and storage solutions – buffer conveyors, FIFO racks, pallet return solutions.
Main benefits
Suitable for low to medium volume production – compared automated systems it is easier to handle changeovers betwewen many different variants or products on the same line (easier to handle High-Mix Low-Volume (HMLV) manufacturing).
Cost effective – smaller investment and a faster start to production compared to a fully automatic line.
Increased productivity –  dividing the assembly process into work phases allows more activities to be carried out in parallel and to increase the capacity of the line.
LEAN & 5S – One-Piece Flow production line gives a good overview of the work status and helps to work according to LEAN and 5S  principles. It is a great solution for production management and workers.
Ergonomic – improved ergonomics and and reduced walking distances compared to separated workstations layout. Safe technical solutions for turning, tilting, or lifting heavy products. Solutions to prevent repetitive and strenuous movements.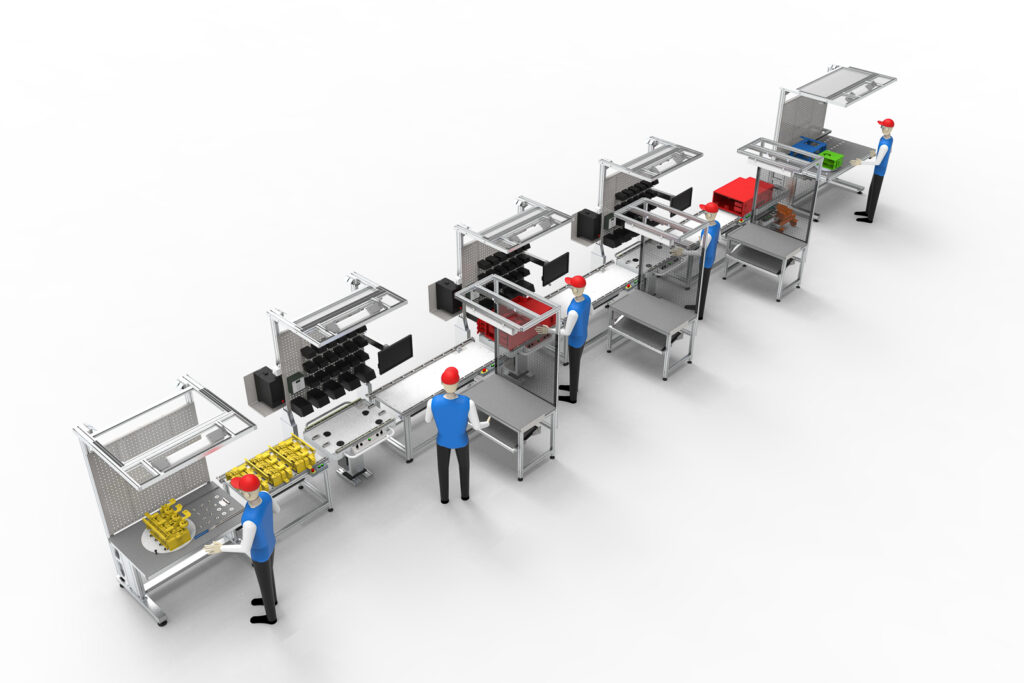 Modular line design
The sections of the production line are modular and can be assembled according to the number and nature of the stages of the assembly process. When planning a production line, a whole line is developed, including various workstations from the production of product pre-assemblies, their transportation to the line, the necessary lifting solutions and the workstations of the main assembly.

Assembly solution for your product?
Analysis of your product – we analyse the product assembly process and offer solutions to ensure efficient and high-quality operations. If necessary, we provide feedback on how to make product design more cost-effective and easier to automate.
Concept creation – our team of experienced engineers helps develop the concept of the device taking into consideration the specifics of your product and the production process.
Solution that meets your ROI expectation – we help you find the perfect technological solutions and level of automation to make the payback period attractive.
CUSTOMER REFERENCE
One-Piece Flow Assembly Line for Production of ABB Drives
ABB is a world-renowned manufacturer of frequency converters that can control the speed and torque of electric motors. Their use provides significant energy savings and increased productivity. These products are widely used in various industries such as the oil and gas, mining, metal, chemical, cement, paper and wood and manufacturing industries. To assemble the frequency converters efficiently, safely and at a high quality, ABB required an assembly line.
Read more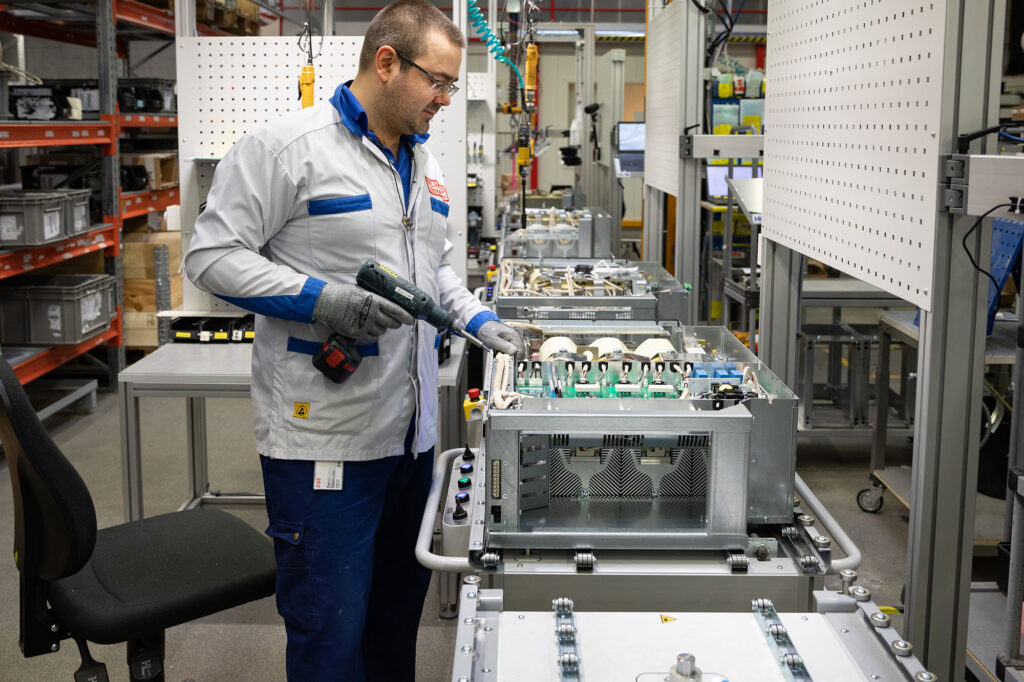 CUSTOMER REFERENCE
One-Piece Flow Assembly Line for Electronics Factory
A one-piece flow assembly line with main assembly track and integrated lifting solution was needed at an electronics factory. We designed, manufactured, installed and commisioned a line according to factory needs.
Read more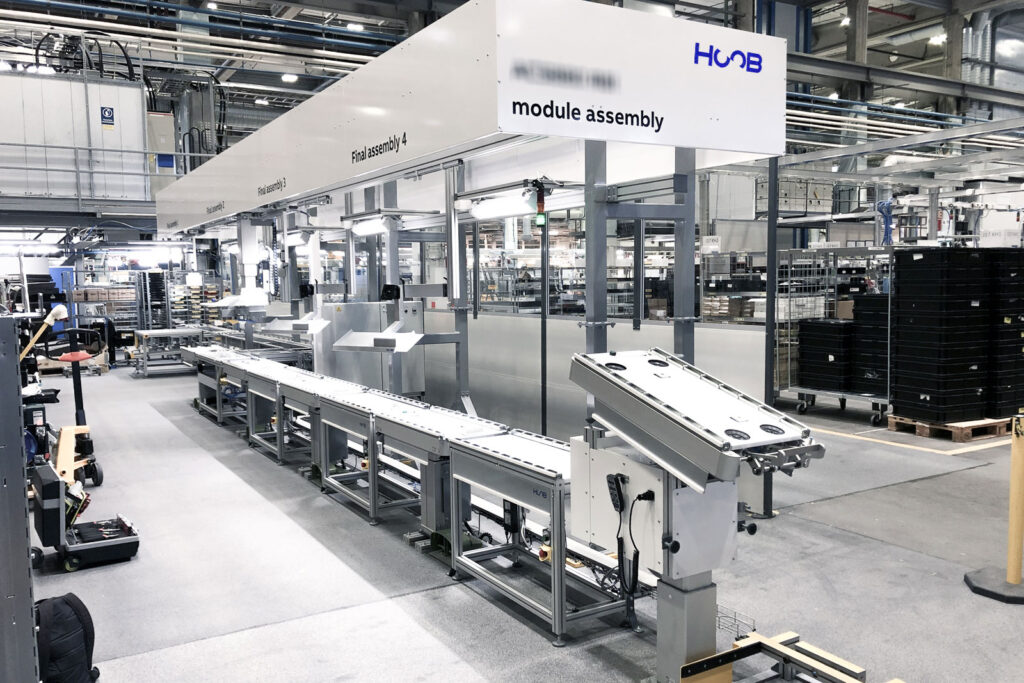 CUSTOMER REFERENCE
One-Piece Flow Assembly Line for Electronics Module
An assembly line solution was needed to assemble a product that needs access from multiple directions but is too heavy for manual handling. We created a solution for one-piece flow assembly but can turn and tilt the product at workstations.
Read more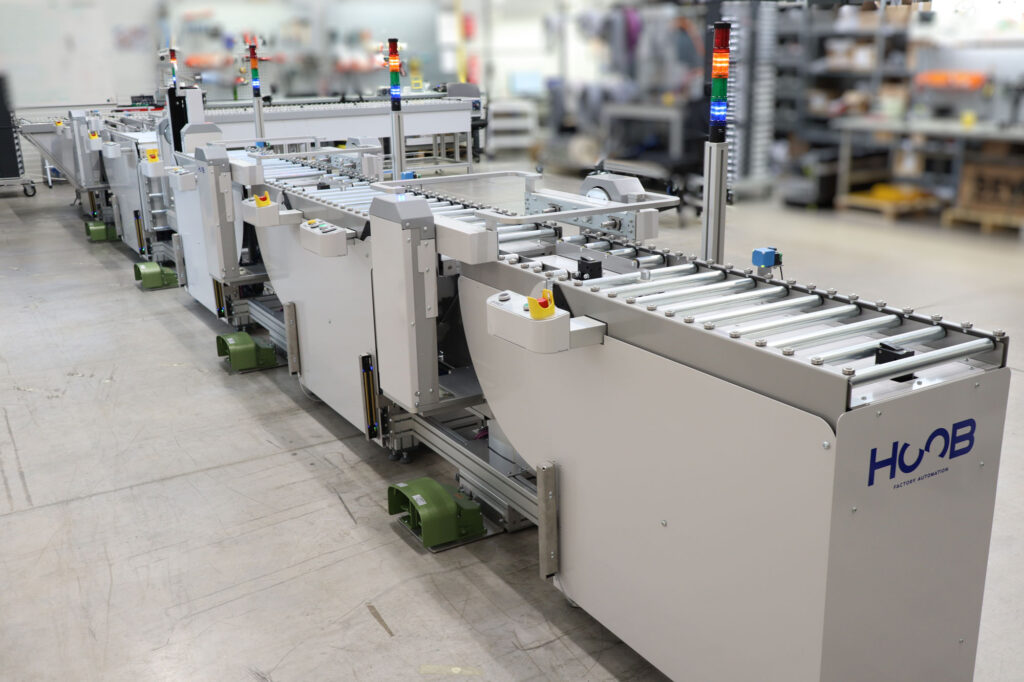 References
Stories of our customers.
HOOB is a reliable partner for every production company. With us, you can be sure that, until the end of the final project and beyond, we will think with the customer and be ready to further develop automation and robotics solutions.